Drop Off /Pick Up
All children must be dropped off and picked up from the Junior School main entrance by vehicle. There will be no pedestrian access to the school without prior agreement – via the Summer school office at drop off and pick up time. All parents should be familiar with their children's group number.
All vehicles must turn right into the school and turn right out of the school – parents will need to plan their journey accordingly. This is to ensure that we are able to maintain a reasonable flow of traffic on the street.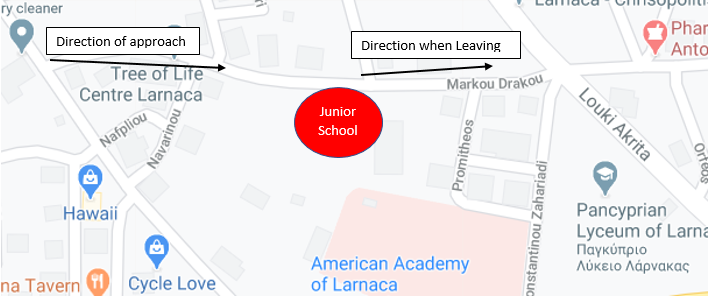 On Entry to School
The temperature of children will be taken at the gate. If your child's temperature is 37.6◦C or more, you will be asked to take your child home. They will only be readmitted to school with a doctor's note clearly stating that they are fit and well and that they may return to school.
Children will be asked to use hand sanitiser on their hands before entry.
Stationery
Children are advised to bring their own equipment.
Pencil cases must be clearly named and must only include:
2 pencils
1 ruler
1 rubber/eraser
1 pencil sharpener
Coloured pencils (12 max)
Scissors and highlighters will be issued as required. They will have been cleaned in advance and will be cleaned after use using an appropriate antibacterial solution. Other equipment such as paintbrushes, balls and music beaters will also be cleaned before and after use.
Uniform
All children are to attend in their PE kit every day.  Extra t-shirt is required.  Summer School t-shirt only the day that your sons/daughter's group will attend the Municipal Garden.
Canteen Facilities
There will be no canteen facilities. Children must bring all food and drink with them to school. Drinking water will be available in 500ml bottles priced 50c. These will be provided via a vending machine supplied by the school canteen.
Cleaning
The school has been fully disinfected in line with Ministerial requirements and the cleaning schedule will continue to be monitored by our Facilities Manager – Mr Simos Nicolaou.
Recess
Each group will have a set location in which to play out. Children will be encouraged to make sensible choices about sitting in the shade.
Parents are reminded to ensure that they apply high factor sun cream to their child each morning. We are not able to re-apply this during the day.
Masks and Gloves
The ministry does not require that we provide, nor insist on children wearing masks and gloves. If parents do wish that their child wears a mask or gloves this is fine, though children must be able to fit / change these items independently.
Summer School Office
The Summer School Office will be in the Graduates Centre (next to the Sports Centre). The working hours will be: 07.15 – 15.00. Telephone numbers: 24746359/24746354 and email evasiliou@academy.ac.cy. Other ways of payment include JCC Smart or bank deposit (bank account numbers are being attached).
What if my child becomes unwell?
If your child becomes unwell, you will be contacted and required to collect them. Children become unwell for many reasons at school regardless of whether or not there is a global pandemic. Given the circumstances, however, you will be asked to seek advice from a Doctor and will need a letter from them confirming that they are fit and able to return to school.
What if there is a confirmed case of Covid 19?
If there is a confirmed case of covid19 amongst the students, staff or close family members, it is vital that the school is informed immediately. We will then follow all protocols required by the Ministry of Health. These are updated regularly and we will keep parents informed of what is happening at each step. It is expected that in this event, we may need to close down sections of the school (this will include sending some staff and children home for a certain length of time), adhere to testing protocols and undertake further disinfection.
Our facilities manager is in daily contact with the ministry.